Regular price
$185.00 USD
Regular price
$0.00 USD
Sale price
$185.00 USD
Unit price
per
Sale
Sold out
Create your own unique custom championship belt using the ravishing design of the Pioneer Series with 8-karat silver-chrome plating. Upload your own logo, images or artwork, and desired wording for the top and bottom banners for a personalized design. All provided images will be transformed to expert vector artwork for superior clarity and amazing details. Our custom work and craftsmanship creates an exceptional championship belt, worthy of royalty. Constructed from the highest quality materials and hand-crafted with care in the U.S.A.
Mock-Up Time

1-2 Days for a Mock-Up of what you belt will look like : If images are below quality, we will take the extra time to rebuild the file so your images will be clear.

How many Mock-Ups Can I get? We will provide as many as you need within reasoning. Please note, due to the time required to build files it will require extra time to provide additional mock ups.
Build-Time

After Mock Up Approval = Please allow 2-3 days to complete the build and assembly of your belt.
Belt Strap Details

Length = 52" Inches

Thickness = 0.25" Inches

Size = With several button rows it fits anyone from a waste size 26- 46 width pants size.
Plate Dimensions

Main-Plate (Center)

Height = 8.5" Inches

Width = 11.0" Inches

Side-Plates (Smaller Plates)

Height = 4.0" Inches

Width = 3.0" Inches

Plates Thickness =2MM
Cleaning Instructions

For Lifetime Excellent Quality:

Always Use - A Micro Fiber Towel (Cloth used to clean Eye Glasses). And clean with Isopropyl Alcohol. (Excellent for removing fingerprints and preserving paint colors and plating). Or a light soapy water

Avoid Using - Cleaning Waxes, Polishes, Dish Rags, Bathing Towels, Paper Towels
Shipping & Returns

United States:

-Free UPS Ground Shipping (2-3 business days)

-Express Overnight Shipping available at checkout.

INTERNATIONAL:

- UPS Flat Rate Price $60 per Belt

RETURNS: If you are unsatisfied with your purchase we offer a 100% full refund return.
Share
Amazing product and shipping times
Fantastic products. We have purchased 4 belts total. Great quality and quick shipping. Communication is best in class. I highly recommend them.
YLA World Championship Belt
I love the belt! Wore it around all day when it came in the mail…thank you very much and I look forward to ordering more.
View full details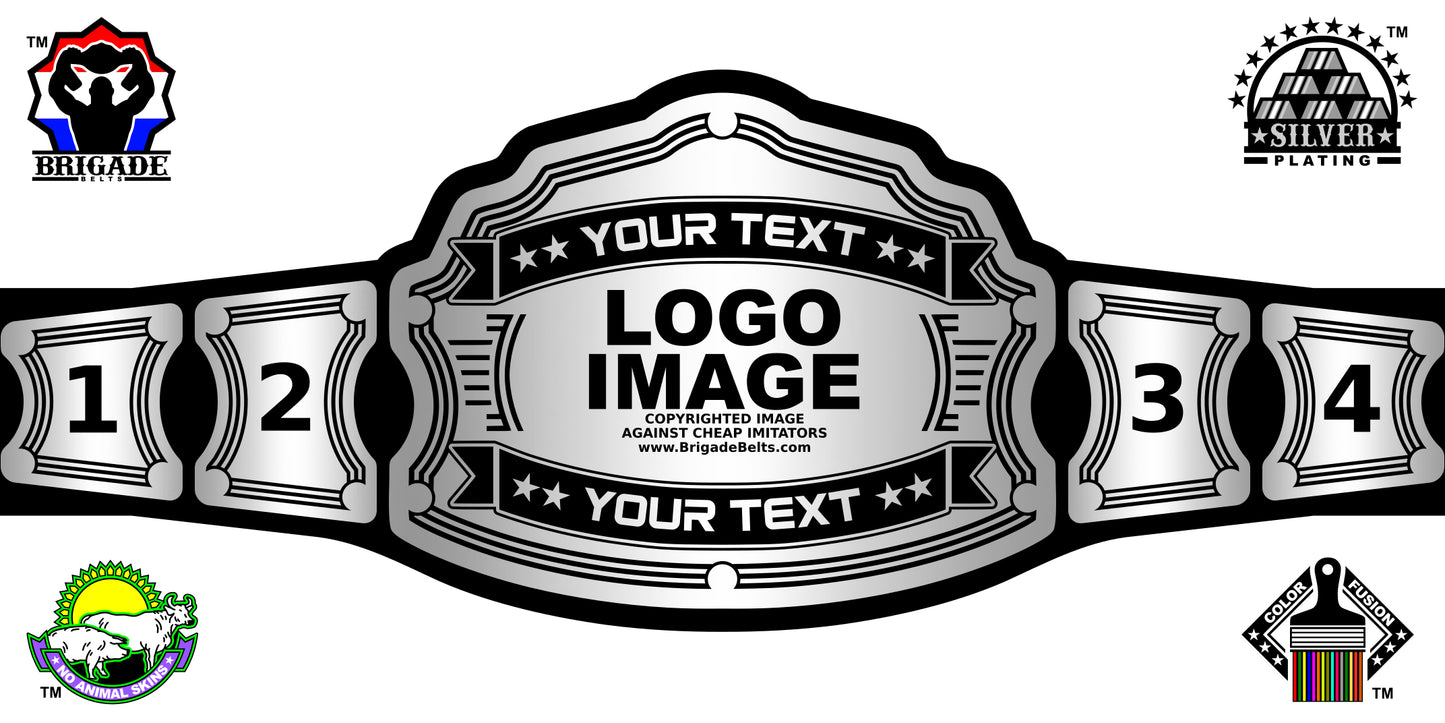 Quick Refund Protection

We appreciate all of the business our great customers have given us. We also want to give you peace of mind when purchasing a championship belt from us. Any belt or item purchased from our store is guarded and protected with our Risk-Free / Quick Refund Protection Policy.

Ensuring your purchase is never at risk. And in the event something were to happen where your belt was stolen after delivery, you received a wrong belt, or your custom championship belt design were to never be to your satisfaction. We have you covered.

Shiny Chrome-Silver Belts

Our silver plates are made from only the best metals with steel. Then electroplated with our trademark chrome silver finish. The plates are then sealed to protect the silver and the paint. The Chrome finished plates will last a lifetime and never dull or rust because we use to notch metals, and not inferior corner cutting types like aluminum.

Innovative & Ethical Straps

We have declined to continue ancient and primitive championship belt standards of using a slaughtered animal hide. We are the FIRST and ONLY championship belt company to innovate in this area. We have
produced a belt strap that looks and feels like traditional championship belt straps, but made of ethical materials. Our belts feature a luxury surface just like real leather, and also includes the standard championship belt features. Buttons, hand tooled border designs and snap boxes.